Ah, gardening. You either love or hate it, but there is no denying that a garden is a pleasant place to be in and can make you feel content. However, curb appeal aside, did you know there are many financial benefits to growing a home garden?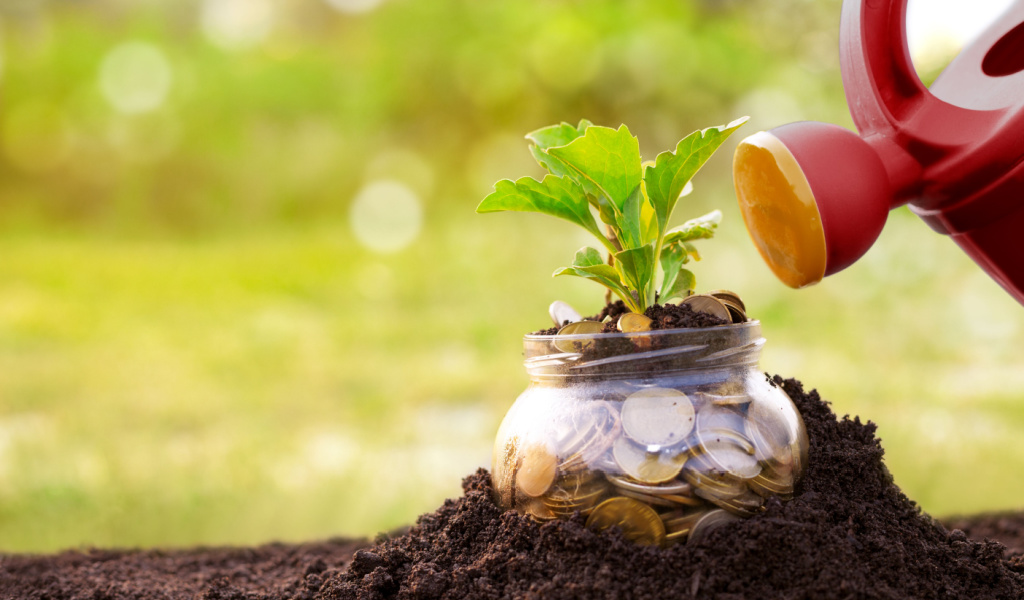 Long-term gardening has been proven to provide tremendous financial benefits. Of course, the initial costs of setting it all up may appear daunting, but the long-term returns can help immensely in cutting down on grocery costs, making your time and effort worthwhile investments. When you make gardening a consistent habit, the costs decrease while the rewards increase. In today's economy, where people are always searching for ways to cut down on expenses, growing a garden can be a great bonus, not just from a financial perspective but in other ways too.
So, if you're an enthusiastic gardener but want to know if your hard work is paying off, keep reading to learn if your green thumb is helping you save (and put money) into your wallet.
Save Money on Food
Regarding the financial benefits of gardening, the first and most important one is eating from the garden. Growing fruits and vegetables can be much cheaper than buying them from the grocery store. Store-bought produce costs can add up fast, especially if you buy organic. Besides, growing your produce also gives you the power to control its quality by reducing exposure to chemicals and pesticides.
Plus, nothing can beat the flavor of freshly picked fruits and veggies! Having said that, you need to be smart in planning, consider the costs of gardening tools and equipment and apply resourceful solutions to ensure that your garden becomes a good investment.
Sell What You Grow
When you decide to plant a garden, the sheer variety of produce you can grow is overwhelming and exciting. Gardeners often over-plant and end up with more than they need. If you're in the same boat, you can sell extra vegetables, fruits, and flowers from your garden to make a bit of cash.
Local farmer's markets are immensely popular in the prime growing months, and you can even sell the produce online. Since it is all home-grown, you can offer them at a reduced rate compared to local grocery stores. Moreover, if it is allowed in your community, you can even set up a roadside stall with your excess produce or even speak to local restaurants and stores that might be interested in purchasing fresh produce from you. This way, you're not just saving money on your grocery bill but actually making money from selling what you can't eat.
You can also harvest your seeds and cuttings for sale to other gardeners. At the same time, you can also barter with them and trade what you have for what you need so that you won't need to spend extra money buying what you can't grow.
It's Therapeutic
When you feel the warm sun caress your skin and inhale the refreshing smell of fresh grass, it works wonders for your mental health. You might wonder how this can be a financial benefit. Let's get there.
Yes, money can't buy happiness, but happiness can boost your income. Here's how: happy people tend to be more productive, active, and optimistic, which translates into your performance at work, making you a better employee. On top of this, many people turn to retail therapy when they need a boost of mood, which can burn a hole in their wallet. Try gardening instead; you'll be amazed by how accomplished and productive you feel!
It's Great Exercise
Gardening is labor-intensive – you'll break into a sweat just a few minutes in! Gardening is an excellent way to get in your daily workout without putting your running trainers on. In fact, the calories you can burn while gardening can count for your 30-minute daily quota of physical activity.
When you make it a consistent habit, you can also save money that would otherwise be spent on getting a gym membership. The physical exercise you get from gardening can make you fitter, stronger, and healthier, helping cut down on doctor's appointments and medical bills as well!
Rent Out Your Garden
A well-maintained garden is a joy to look at and makes the perfect location to host intimate dinner parties, photoshoots, and receptions. Many people prefer the airy and natural backdrop of trees and flowers. If you can promote your beautiful garden as a space to host events, it can be exceptionally profitable. A small garden doesn't mean you cannot take advantage of this benefit; you can still rent it for picnics or art/crafts sessions. You can try listing it on Airbnb to earn some extra income.
Fresh Gifts!
Why spend money on buying gifts when you have plenty growing right there in your own garden? Pick some flowers to make a lovely bouquet, or hand-pick fresh fruits and vegetables to create a beautiful basket. These make for unique and memorable gifts – and the best part is that they don't cost you anything extra!
Conduct Gardening Classes
Gardening is an art that requires years and years of patience, tolerance, and perseverance. If you possess skills and knowledge you've learned through experience and you want to share that with others, you can offer gardening classes. Many people are eager to learn from someone with expertise, and the courses can be conducted right in your garden!
Meet Similar-Minded People
You can expand your social circle by meeting new people through local gardening communities, farmer's markets, or your area's community garden. Community gardens are helpful for those who don't have enough space on their property to grow a garden but still want to grow their own produce. So, if you want to meet people in your area, you don't have to go somewhere where you have to spend money; seek out a community garden and meet people who share your passion for gardening!
Bottom Line
Gardening is a productive hobby that can improve your health, help grow your social network and cut down your grocery budget. The benefits of planting a garden are numerous, and it's not just limited to money. So, if you're looking for a way to improve your lifestyle, budget wisely, and live a greener life, consider gardening an option that will benefit you in limitless ways!